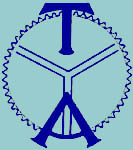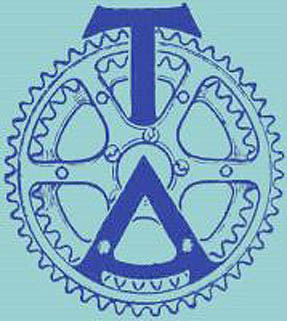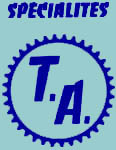 ---
---
T.A. began in 1947, introducing alloy chainwheels, which were regularly found on a host of other manufacturer's crankarms. The initals stand for "traction Avant" - the remnants of founder Georges Navet's ill-fated front-wheel-drive experiments. T.A. moved into the crankarm market with the release of their "cottered" (but cotterless...) cranks in the early 60s, but shortly replaced them with the "pro 5 vis" in 1963. The 3-arm "pro 3 attaches" cranks were introduced in the early 70s. Many of the crankarms and chainwheels listed here continue to remain in production today, in almost the same form, thanks to a steady demand for them from a certain segment of the cycling population. "pro 5 vis" crankarms were even the choice of the early Marin mountain bikers, as they provided the wide range of gears neccessary.
I've attempted to gather together in one place the part reference numbers for classic Specialites T.A. components and accessories from the 70s and earlier. As far as cranksets are concerned, I'm focussing on the "criterium" , "pro 5 vis" and "pro 3 attaches" models - while they are interesting in their own right, and add a further dimension to T.A.'s proud history, I'm not concerned with the "Tevano" or other, more modern T.A. cranksets. This is not from lack of interest, but to wanting to keep a cartain type pf vintage focus to this page - I'm of the opinion that current T.A. products, like those of the past, oftimes have better finish work than many of their more popular competitors.
I somewhat haphazardly collect T.A. components, and I'm always on the hunt for more parts listings, and especially catalogues to improve upon the accuracy of this listing and my own knowledge. This listing will gradually include further linked photos and drawings - I'm especially looking for catalogue cover shots and infomation on the history of T.A. and individual component development. To that end, do not hesitate to contact me if you have anything to add or correct - I'm not the end-all-be-all of T.A. knowledge, and I'm always open to learn something new.
French names for parts are sometimes used in the listing for brevity (or just for the sake of using them, really :) ) - full descriptions, when omitted, can be found on the definitions page.
Interestingly enough, T.A. seems to have licensed some of their chainwheel patterns to Magistroni in Italy - cleverly combining two of my favorite component manufacturers. Apparently at least alloy chainwheels and adapters were produced under this licensing agreement.
A big thank you is due to Grant Handley for invaluable assistance and photos, to an unwitting Mike Barry at Bicycle Specialties in Toronto for having T.A. history info up on his site for me to pilfer, to Bob Hanson for the copy of an early 80s catalogue, to Satoru Masuda for some nice clean images, and to a host of other people whose pictures and knowledge i have learned from, borrowed, and sometimes outright "stolen" (in a good way). There's still a host of T.A. stuff out there not found here - and if you've got any of it, please do feel free to send any info my way.
---
---
---
the actual company webpage - still producing pro 5 vis cranksets and chainwheels!
Classics Rendezvous' T.A. page
in Japanese, and and seemingly focussed on seriously vintage stuff.
Mike Berry's Toronto shop, with possibly the best selection of vintage (and modern!) T.A. parts I've seen anywhere.
home of Sheldon Brown, and another excellent source of T.A. crankset parts.
---