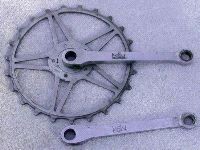 These cranks are most commonly seen as track cranks, with any of a number of styles of chainring attached. Above they are shown with a Magistroni chainwheel, below with a Williams chainwheel of British make, and further down the page with a Dei chainwheel, all 1"x 3/16" (inch-ptich), popular on track bikes in the day. On could. of course, use other chainwheels, as the drawings on this page show.
Cranks of this style were most commonly stamped with the Magistroni "circus tent" logo on the face of the crankarm, as shown in the image to the left, but can also be found stamped with various other maker's marks, such as the "Frejus" stamping on the right, or the "Dei Milano" stamping on the cranks below right.
The finish all around is flat chromed steel, with the exception of the backside of the crank, where the back of the arm is fluted, and the back of the spider, where the surface is unchromed, as seen above left.
---
back to the main magistroni cranksets page