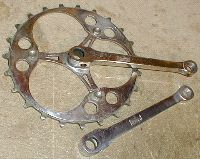 3-arm, 116mm bcd, cutouts in each arm, fluting on back of crankarm, "circus tent" engraving on crankarm face.
These cranks, like their 5-pin version, are most commonly seen as track cranks. Here they are shown with a 1" x 3/16" chainwheel of unknown make.
Also found as road cranks, such as those on the left, with a Simplex double chainwheel mounted, or stamped with other logos, such as the "Ciclo Piave" cranks on the right, with Magistroni alloy chainwheel.
---
back to the main magistroni cranksets page