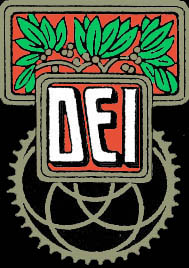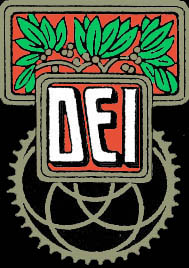 Some years back, I purchased a framed 1932 Umberto Dei team poster from someone off the net - with some nasty water damage, but still in its original frame, and that, coupled with seeing a few peoples vintage Dei bicycles, kicked me off on this Italian framebuilder. All I have currently in my collection is that poster, a U. Dei leather sprint saddle, and some vintage transfers, but I decided I needed something more to research and classify, so here we are - plus there was nothing on Dei at Classic Rendezvous, so I was left with no other choice...
The company was founded in 1896, and quickly became a well-known player in the Italian bicycle market. The Columbus website cites Dei as one of their earliest customers, purchasing tubes from the fledgling company in 1919. While production of Umberto Dei bikes as far as this web page is concerned ended in 1964 (shortly after or coinciding with the death of Umberto Dei himself), Dei as a brand name still exists today, I beleive now owned by Atala, and limited to production of "city" bikes.
From a circa 1951 Dei poster:
Umberto Dei was already an apprentice mechanic when he started his career as a bicycle manufacturer in 1896, but unfortunately for his financial means, which were limited, he had to settle with limiting himself to building frames for local merchants and racing bikes for his friends and companions who would cover in advance the cost [of the tubing and] building materials and with which they would then hold fun races between companions.

It was in 1897 that Umberto Dei who had trained [?] was selected by the UVI and sent to Paris along with three other of the best Italians to take part in a race with the most well-known French racers of the time. The Italians won the competition and Umberto contributed very effectively to the win, placing second behind the Italian Minozzi, then Italian Champion.

Dei recalls with great pleasure that he used a self-made bicycle on that occasion and that his teammates held that the bike was smoother because he had had the foresight to lighten and make the rims narrower (at the time wood rims were used.)

From that year, Umberto Dei became the banner holder of mechanical means and the constant ascent of his products started, notwithstanding that his financial means were still quite limited, but nonetheless the best professionals (already paid by the other makers) began to turn themselves to him for the construction of their special bikes, with the same happening with many foreign racers.

He was the first to make bikes with 68 cm diameter wheels, hence the same diameter of tubulars, tending to be lighter, using parts that other manufacturers only used for racing bikes, in such a way that his bikes that would initially be for racing but with a simple switch of the rims/tires could be transformed into touring/roadsters.

Later at the ANCMA (Milan bicycle trade fair), from 1929, Dei would display his bikes hanging from scales, showing that they were sensibly lighter than more common bikes and with signs with descriptions of the lightweight alloys required and other minimal weight saving measures that permitted to reduce the weight of other parts without prejudicing the solidity and durability of the bike.

With these new types, he reached a sensibly improved smoothness, not only because of the lighter weight but also because of close attention paid to the lightening of the wheels.

Umberto Dei had already given up his brilliant personal sporting ambitions in racing and his craftsmanship from Via San Vito, was developed in the new premises in Via Pasquale Paoli, 4 increasing the size of the shop floor size as they saw their biggest production period. For many years, he was involved in all types of sports cycling events and had riders of all specialties on bikes with his brand winning all types of championships and classic races, on track as on the road, both in Italy and abroad.

At the same time, he also frequently offered unconditional prizes and primes.

In the years following the great war of 1915-18, Dei took the initiative to prepare numerous models with special features for the handicapped.

In 1936, in the event of the Berlin Olympics, Dei had the exceptional and well-merited satisfaction of being commissioned and paid to supply the bikes for the riders of the official delegations of such foreign teams as Argentina, Brazil, Egypt, Uruguay, Peru, Romania, Bulgaria, Columbia and Turkey. This conspicuous preference was undoubted proof of the recognized superiority of the Dei products in that his bikes then cost considerably more than those of competitors.

From 1923, a company of former glories of Italian Cycling elected him to be the President of the Unione Veterani Ciclisti Italiani [Union of Italian Veteran Cyclists], this same organization later consistently recognized the Italian cyclists who have been able to distinguish themselves abroad, in 1951, assigning 4 gold medals to the 4 Italians who won World Championships titles.

The Veteran¹s Union is headquartered in the retirement home of Umberto Dei, where the relics of the first period of Italian cycle sport are cared for with loving and devoted care.

Umberto Dei was the promoter of the ³Costamagna² prize, once director of the ³Gazzetta dello Sport², later founder of the ³Premio Romolo Bruni² and then of the ³Premio G.F. Tommaselli.²

In the sad year 1943, Umberto Dei had both his complete production facility and most of his home destroyed by a war bombardment, and was forced to interrupt his production.

However, no matter how drastically the largest part of his fortune had been destroyed, and notwithstanding his already advanced age, he was able to react and after only a few years to reestablish himself in the new premises of Via San Vincenzo where he has quickly returned his brand to highest consideration.
From the 1988 Dei catalogue:
"It happened in the year 1896. The Lumiere brothers had just invented cinematography and Guglielmo Marconi had created the wireless telephone, when a little artisan, fond of cycling and extremely meticulous, made his first series of bicycles. His name was Umberto Dei.

That was the beginning of a marvellous adventure that led him to create a collection of bicycles which were considered among the best in the world. Their level of quality and perfection was so high that the brand Dei became world-known: everybody longed to have a Dei bycicle and win by riding it.

Umberto himself had a leading role in the track World Championships which was held in Berlin in 1901. The Dei racing bicycles won everywhere and were on top of the scene for nearly half a century, receiving many honours in the most important cycle tracks of the world."
While Dei's speciality was the track, their racers on the road, especially in the 1930s, were strong as well, with top 5 placings in several Giro d'Italias. Umberto himself gained a reputation not only for building beautiful bicycles, but for his philanthropy as well, regularly giving large sums of money to charitable organizations until his death in the 1960s.
As I slowly track down more information, I'll add it here - in the meantime, thanks to Alex Clarke, Ivo Spadone, Ray Homiski, George Kracke, Roger Barrett, Steven Maasland, Gino Londi and others for their assistance with this project.
Anyone with anything to add to this page - especially more bike pictures!, please do not hesitate to email me.
---
| | |
| --- | --- |
| picture, serial # | description |
| 66g2626 | ~1933 mod. Milano-San Remo |
| 77860 | 1948 mod. Pista |
| 1332 | ~1965 mod. Superleggera |
| | 1935 mod. Milano-San Remo |
| | 1930s mod. Pista |
| | Antonio Maspes' 1958 mod. Pista |
| | 19? mod. Pista |
| | 19? mod. ? |
| | 1956 mod. Superleggera - coming soon! |
U. Dei sprint saddle - in the typical long style of the first part of the 20th century.
U. Dei bb and crankset, most likely manufactured by Magistroni
U. Dei hubs, possibly manufactured by FB
---
1931 team poster - Manera, Giorgetti, Bergamini, Cavallini, Linari, Pesenti, Piani, Tonani, Lazzaretti, and Martinetti
1932 team poster - at the time, the team was nothing to be scoffed at:
Pesenti - 3rd in the 1931 Tour de France
Linari - 1000m world record holder in 1'7"2/5
Manera -Italian stayers champion and hour record holder
Martinetti - Italian sprint(?) champion of 1931
Giorgetti - motor-paced champion of America (and popular on the 6-day circuit)
Bergamini - Italian seniors sprint (?) champion
1934 dei catalogue - the full range of racing, town, childrens and motorized bicycles (adobe acrobat file)
1938 italian cyclo-cross championships poster - dei won the italian cx champs that year.
1952 poster - riders (past and present) and history
~1930 brass bell for city bikes
the following images are reproduced from a modern (~1988) dei catalogue - all are circa 1915-1930:
---