chainwheel tattoo project
this is a pet project of mine... ive been collecting silhouettes of vintage chainwheels for this for a while now, and im always looking for more, so if you come across this page, and have a chainwheel design you think i might like, feel free to send it my way. im mainly interested in designs that dont have letters in them - which eliminates things like BSA, chater-lea, dayton, or any number of others... ive never wanted to get a companys name or logo tattooed on me, but distinctive chainwheel designs are far enough separated from getting, say, the campy winged wheel, which, cool a design as it is, i would never get tattooed...
the original idea was a full sleeve, as a travelogue - whenever im visiting somewhere, or run into someone i want to get tattooed by (and have the $$$!), ill add another chainwheel or two (or 3, or...) to my arm. due to recent lulls in me traveling (and having spare money...), and some ensuing time gaps in this project, i'm somewhat modifying the idea at this point to split it halfway between that original travelogue idea, and collecting work from various portland artists. as always, as work happens, ill add the artists name, location and date, and move the chainwheel image up to the top of the page, as well as adding a blurb about the session. most of the designs will be 2" in diameter, though therell probably be a few larger chainwheels, and some smaller ones as space fills up but gaps get left behind.
i havent yet decided what the plan is once my arm is entirely filled with as many black chainwheel silhouettes as it can hold without overlap. granted, this is a good ways off, but... i have considered a background of some kind - perhaps a second layer of silhouettes, in deep red, "underneath" the black ones... or i may come up with something else, or even just leave it as is. a lot will depend on how the sleeve looks once its all filled, and theres no more room for further chainwheels in black - i doubt ill be able to decide what to do next until that point.
its fun to see where these designs have spread out to over the better part of a decade now. i see them on other peoples skin, on tshirts, messenger bags, patches... and now, my friends at stumptown printers here in portland have done something really cool with some of their and my favorites from this long list, and printed up a poster, a portion of the proceeds from which go to support good bike work here in portland and beyond.
the next name out the hat when the tattoo savings jar filled up was ms. mikki at fortune tattoo, which was kind of appropriate, since dannyboy worked with her early on in his career at sacred. i was initially thinking id finally get to do work around my elbow, but we started out on the forearm and figured wed go til the meter ran out. its oftimes surprising just how long these little chainwheels take, but when you consider the level of detail in some of them, especially at that scale, combined with the circular aspect (another notoriously difficult tattoo trick) and getting the teeth to look just right, many times the time just flies by. 4 chainwheels is always a good session, though. mikki is fantastic, a really wonderful bridge between a lot of older and newer generation tattoo artists. super-smooth session, and some of the cleanest day-after work ive had to date.


round 13
jacob tong
moment of truth
portland, 16 May 2013

magistroni
(italy, 1960s)

unknown
(us, 1890s)

ancora
(italy, 1940s)

rochet
(france, 1930s)

unknown
(france, ?)
so since i havent really been travelling, and thus not implementing this as the travelogue tattoo it started out as, its morphing into a portland collection. to that end, ive been making a list of portland artists based on recommendations from friends, and rolling dice to see wholl be next whenever ive got some spare $ - and jacob came up first, which is kinda cool cause hes a bike guy and a friend of friends, so it was kinda natural. he laid down these next 5 nice and easy, and i got in my humorous anchor chainwheel. (i mean, seriously, once i discovered a chainwheel with anchors in the design, how could i NOT get that tattooed on my forearm, a la popeye?). now i get to figure out what to do with the open space around my elbow, which i think will be the next round...


round 12
dannyboy smith
fortune tattoo
portland, 27 Mar 2013

fonlupt
(france, 1930s)

gendron
(us, 1910s)

james
(uk, 1950s)

eagle
(us, 1890s)

t. a. rick
(us, 1890s)

swallow
(japan, 1960s?)

unknown
(us, 1910s)
back to where it started. danny was in town, so i figured what the hell, its been years since ive had any work, sooooooo. packed some more below the elbow, including the last one in this series as a 2.5" design about 1/3 of the way down from my elbow. most of this is on the inner arm. now i cant wait to do more again!
so as joe is finishing up the 4 rings below, chad asks if he can have a go at a few! sweet. so, after he finishes up the customer hes working on, i get to come back around and get the first few chainwheels done down below the elbow, starting off the march toward my wrist. stoked about this - in one day i pretty much finish up the upper arm, and start work on the lower. chad was great - again, almost as stoked as joe to be working on this (really, itd be hard to be as into this idea as joe has been, unless youre me!), and just cranked these out on short notice. pretty freaking sweet, im stoked to have this leg of things started, and just as stoked to start working down and see yet more progress!
more fill. the thor cog is 1.5", between the solida from round 5 and the derwis from round 10a. the huffman is a 1" ring between the j. wis and heskiltuna from round 1, the swiss army from round 6, and the magistroni? from round 2. the first unknown ring ended up between the peugeot and rudge from round 1, and the second unknown was placed in the space between the tribune from round 10a and the elgin from round 4. joe, as before, was awesome. this basically filled out almost every last space in the upper portion of my arm, save the little fauber which will be round 10d, whenever weve got time, as his next appointment was due about the time we finished these 4.
this was the second part of the two(+?)-part session with joe at 1928 here in portland. the sturmey-archer cog is on my inner arm, 1.5" diameter, squeezed in between the fonlupt from round 3 and the ta from round 9. the fonlupt, between the hiawatha from round 10a and the ta from round 9, above this rounds fonlupt. the simpson cog is another 1.5" design, placed between the hiawatha, the peugeot from round 1, and the big u. dei on my shoulder. this session just flowed. joe was just plain on it, and had these guys on me before we really even realized it, and when we stopped and looked at the whole thing once we were done, for the first time, seen from the right angle, the whole thing really looks like a half-sleeve. freaking awesome to have that sense of incremental completion really show up. for the first time, i can really see a completed block of work, a solid bit where there really isnt any more space for further chainwheels or cogs at a size where their detail is visible. at this point, theres room for the 4 more chainwheels listed as the next batch down below in the "upcoming work" section, and then its time to start working down into and filling up my forearm. the feeling of progression is pretty awesome, as has been working with joe in general - i cannot overstate (what should be obvious...) how great it is to work with someone who truly grasps the idea of this project, and is stoked about where its been, how its progressed, and how it will build from here as joe is - for that, joe, THANK YOU.
4 years. that's how long it's taken me to get of this rut. so, i'd been kinda pissed at myself, letting this project lapse - i hadn't been traveling as much, or i'd been traveling broke, or to places i'd already been, and, thus, no new tattoos. after 4 years of this, it was starting to bum me out - to the extent that i started entertaining the notion that perhaps i'd simply buckle down, set some money aside, and just have someone here in portland fill in all the holes remaining in my upper arm, so i could get to work on concertedly filling my lower arm, and really show some progress. which is about when joe emailed me, having spotted this very webpage, to say "hey, id *really* like to be involved in this project!". perfect timing. we sat down, had coffee, talked about had him enthused about it, what had me enthused about it, and lo and behold, a month down the line, we had ourselves an appointment. joe was great - super cool guy, absolutely impeccable shop, and a new bit for me - HUGE windows to look out while that annoying pricking feeling pesters you. awesome. hes got a super smooth hand, and a really light touch - and i cannot overstate how awesome it is to have someone working on me whos as excited about the idea as i am. joe will return for round 11 in a short bit here, after which the whole upper arm may well be finished off! crazy. the hiawatha and derwis rings are 2" - there's now room for one more and that's it - and the tribune cog is the first of the fill, and probably the only 1.5" space we could find.
another 2.5" chainwheel, inner arm, almost directly above the fonlupt (round 3), and obscuring (at least partially) one of the crescent moons of my moon phases armband. ny adorned came recommended by barnaby, and he didnt steer me wrong - a really really nice clean shop, with friendly staff. yoni was great, considering that this placement is a pain in the ass - theres no real good position in which to get to this portion of the underarm, which makes it difficult for both artist and the person getting tattooed. sure, inner arm and armpit area tattoos are painful, but really it wasnt that bad compared to the inevitable wrenched shoulder from the neccessarily uncomfortable postioning required. despite that, though, yoni made things a breeze, really comfortable experience considering how blasted awkward it was!
the second pre-portland move session. i worked with barnaby when i first moved to san francisco some 10 years back, and have been meaning to have him do a bit for me for ages now, so its high time i followed through. i felt awful for having to nix barnabys placement of the sirius to obscure one of my half-moons because of spatial foresight, but i have to think about these things in terms of how much room there is to place other chainwheels... barnaby is the fastest tattooist EVER. insanely fast. told me to go look in the mirror, and i thought hed just finished one, but nooooooo... my nerves were telling me hed worked on two, but my brain refused to beleive it. crazy fast. and a top notch guy to boot. sorry it took me so long, barnaby!
the first of 2 sessions by friends in san francisco before the portland move. i know rob from his time working at the freewheel, and figured hed be a great choice for a bike-related tattoo. i agonized for some time over whether i was going to do this as a 2.5" diameter chainwheel (too small, didnt stand out enough), a 3" chainwheel (same size as the cats from round 5 right next to it) or a 4" chainwheel (seemed almost *too* big...) before finally deciding to have it done 3.5" diameter. since the framebuilder umberto dei is one of focal points of my collection of bicycle ephemera, this one has prominent placement on the front of my shoulder, above the armpit, at about the same level as the solida "cats". a great, relaxed after work session that finished cleanly and was almost entirely healed up a week later!
id missed getting ink in paris in 2003 while i was over for paris-brest-paris, so this was a must on this trip. everyone i asked about paris said tin-tins shop was the only place worth bothering with, and though i cant vouch for that, i can definitely vouch for it being a top-notch shop. tin-tins rep speaks for itself, and the rest of the crew there are quite talented as well. rudé did really fast and clean work, and ive got a crisp 2.5" chainwheel to show for it. his response to the project is typical of what ive been getting lately - i tend to walk in with a perception of this project as kind of my own little dorky bike geek idea, but the more i do this, and the more it takes shape, the more the response from artists is really enthusiastic - almost always i get a response along the lines of "thats a really great idea, something really personal and unlike anything ive seen!", which is really great for me to hear. i always figured that this idea was always gonna be something that only i would "get", but artists like rudé are proving me wrong. thanks!
the last time id been in amsterdam was before this project started, but it was always high on my list of places i wanted a bit done, if for no other reason than the bike culture. so when i headed back there in 2004 for the ex's 25th anniversary fest, i asked my friend keri for a recommendation, cause i knew shed just been over there doing some piercing work - and she pointed me at monica, who turned out to be enthusiastic about the bit, especially since it involved cats! overall, a really good experience to kick off the variations in size of the chainwheels (this one is 3" diameter) - house of tattoos is perhaps one of the most spotless shops ive ever been in, and a good light touch as well. im really happy with this one!


round 4
toby gallagher
apocalypse
seattle, 12 sep 2003

bj?
(japan, 1930s?)

elgin
(us, 1940s)
i was wondering where i might get ink in seattle when i noted a tattoo booth being set up inside consolidated works (where the cmwc art show and party hq was) - that solved my problem quickly! i asked about getting these 2 done, and rolled up my sleeve to show where, and toby exclaimed "youre that guy!" kinda caught me off guard, but it turned out theyd printed out this page in prep for working cmwc, cause theyd been looking for bike-related flash! nice coincidence, and toby was totally gung-ho about doing the work, and thats always a good sign - nice to have ink being slung by someone as into the idea as i am. went down pretty quick, despite the heckling from messenger friends and constant stream of people wanting to take photographs. a really nice session - good atmosphere, and a downright friendly tattooist! a pity i wasnt in town longer, toby - if youre ever headed down this way, drop a line!
i didnt have the $ to get ink while in paris for paris-brest-paris, so i figured i had to get work done in portland while on my way to cmwc. stayed a day longer than originally planned and took the train instead of riding to seattle, partially so i could drop by tigerlily (recommended by my good friend meghan) and see if there was time to do a couple chainwheels. mod laid out this one and the elgin (that toby eventually ended up doing in seattle - see below) but only had time to finish one before his next appointment came in. had probably the softest touch ive had to date from a tattooist. nice and smooth, good fill, and accurate reproduction. less than a week later, its almost fully healed.


round 2
oskar
skin deep
reykjavik, 26 aug 2002

magistroni?
(italy, 1950s)

mimosa
(france, 1900s)

schwinn sweetheart
(us, 1940s)

simplex
(france, 1950s)
did a semi-walk-in at skin deep with these - had only 2 days left of my week in iceland, and it looked like i had enough money to get ink, but where? i hadnt really done any research (my bad!) but found skin deep and it rubbed me the right way - helgi, im pretty sure, has been inking longer than anyone in iceland, and did bjorks tattoos, if i remember correctly. when i set things up, it was pretty loose, and i just figured it as helgi whod be doing the work, but it turned out to be his son, oskar. unfortunately, oskar didnt really seem to care much about the job, and kinda mucked things up, especially on the teeth. me, being totally fixated to getting tattooed in iceland, basically just let it happen. not something ill do again. i was pissed about it for several days, but came to the conclusion that it was at least partically my own fault, and that anyhow, the concept of the travelogue sleeve outweighed the importance of perfect reproduction. and now ive gotten used to them in their substantially imperfect state. that being said, next time im in iceland, ill be having helgi do a few just to even the score.


round 1
dan e boy
sf, 29 jul 2002

heskiltuna
(sweden, 1900s)

j. wis
(france, 1920s?)

peugeot
(france, 1960s)

rudge
(uk, 1930s)
i figured id start things off with danny - hes a friend of mine, and did my early-celtic/bretagne armband (left arm) some time back - hes a sometime sf bike messenger, and i knew understood the concept and appreciated it. hes working at sacred tattoo in oakland now, but at the time this was done in a back room in the mission. a good start to things, i think.
---

diamant
(germany, 1930s)

campagnolo
(italy, 1960s)

unknown
(us, 1950s)
now that im working down the forearm, theres the inevitable odd unfilled spot around my elbow, which is a bugbear since i have a pin in my elbow that cant really be tattooed over - so for the next round of tattoos, im going to use the diamant, at 3", *around* the point of the elbow. the other 3 will be fill a few spots around the elbow as 1-1.5" designs around it.

unknown
(france, 1900s)

indian
(us, 1900s)

solida "greyhounds"
(france, 1910s)
these will be the next 5 2" chainwheels.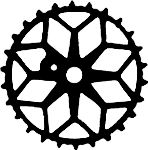 hawthorne
(us, 1930s)
sooner or later, thisll get done on my left shoulder, separate from the sleeve project, 3.5", to "mirror" the dei chainwheel from round 7.
---
chainwheels definitely getting used,
but with no definite plans as of yet:

clement
(france, 1910s)

elan
(france, 1930s)

empire
(us, 1940s)

fauber
(us, 1890s)

fauber
(us, 1890s)

humber
(uk, 1930s)

peregrine
(france, ?)

razeza
(spain, ?)

solida "clover leaves"
(france, 1910s)

pope
(ua, 1890s)

solida "edelweiss"
(france, 1910s)

solida "oak leaves"
(france, 1910s)

unknown
(germany, 1910s)

unknown
(germany, 1930s)

unknown
(france, 1890s)

unknown
(us, 1890s)

unknown
(france, 1930s)

unknown
(france, 1930s)

unknown
(us, 1900s)

unknown
(france, 1930s)
chainwheels and cogs for fill (smaller than 2")

colson
(us, 1950s)

columbia
(us, 1940s)

columbia
(us, 1890s)

stronglight tandem
(france, 1950s)

unknown
(us, 1930s)
the remaining chainwheels to choose from:
2 (but not 4) lobe symmetry:

dion-bouton
(france, 1920s)

james
(uk, 1930s?)

unknown
(us, 1950s)
3 (but not 6) lobe symmetry:

abingdon
(uk, 1900s)

allez
(uk, 1930s)

automoto
(france, 1950s)

bianchi
(italy, 1930s)

brampton
(uk, 1930s)

centaur
(uk, 1900s)

f.b.p.
(italy, ?)

gerbi
(italy, 1930s)

gnutti
(italy, 1950s)

gormully & jeffrey
(us, 1890s)

hermesse
(france, 1930s)

rene herse
(france, 1940s)

magistroni
(italy, 1960s)

magistroni
(italy, 1960s)

mead
(us, 1960s)

motobecane
(france, 1960s)

nsu
(germany, 1930s)

paramount
(us, 1930s)

raleigh
(uk, 1960s)

raleigh
(uk, 1940s)

raleigh
(uk, 1930s)

ravat
(france, 1940s)

royal enfield
(uk, 1930s)

schwinn autocycle
(us, 1930s)

simplex
(france, 1950s)

solida "crowns"
(france, 1910s)

solida "eagles"
(france, 1910s)

solida "j"
(france, 1910s)

solida "lanterns"
(france, 1910s)

stronglight 55
(france, 1950s)

western wheel works
(us, 1890s)

williams c34
(uk, 1950s)

williams c1200
(uk, 1950s)

unknown
(france, 1930s)

unknown
(uk, 1950s)

unknown
(france, 1930s)

unknown
(france, 1950s)

unknown
(france, 1960s?)

unknown
(uk, 1930s)

unknown
(france, 1930s)

unknown
(france, 1930s)

unknown
(italy, 1930s)

unknown
(france, 1960s)

unknown
(france, 1950s)

unknown
(israel, 1960s)

unknown
(us, 1890s)

unknown
(?)

unknown
(france, 1930s)

unknown
(france, 1930s)

unknown
(france, 1930s)

unknown
(uk, 1950s?)

unknown
(us, 1900s?)
4-lobe symmetry:

appeal
(us, 1890s)

brennabor
(germany, 1910s)

expert
(us, 1890s)

gazelle
(holland, 1960s)

paramount?
(us, 1890s)

prior
(us, 1890s)

seminole
(us, 1940s)

starley
(uk, 1890s)

unknown
(us, 1910s)

unknown
(us, 1900s)

unknown
(us, 1940s)

unknown
(us, 1910s)

unknown
(us, 1910s)

unknown
(us, 1910s)

unknown
(us, 1890s)

unknown
(us, 1890s)

unknown
(us, 1890s)

unknown
(us, 1890s)

unknown
(us, 1890s)

unknown
(france, ?)
5-lobe symmetry:

crescent
(sweden, 1940s)

cyclo "rosa"
(france, 1930s)

diamant
(germany, 1930s)

dura-ace 10mm pitch
(japan, 1980s)

durkopp
(germany, 1930s)

elgin
(us, 1940s)

elgin
(us, 1940s)

gian robert
(france, 1950s)

magistroni
(italy, 1950s)

overman
(us, 1890s)

ovum
(?, 1950s)

peerless
(us, 1890s)

racycle
(us, 1890s)

rene thiollet
(france, ?)

schwinn sweetheart
alternate
(us, 1940s)

stronglight 49d
(france, 1940s)

stronglight 57
(france, 1950s)

terrot
(france, 1900s)

thetic
(uk, 1950s)

westfield
(us, 1910s)

williams
(uk, 1950s)

unknown
(italy, 1930s)

unknown
(us, 1950s)

unknown
(us, 1950s)

unknown
(france, 1950s)

unknown
(france, 1950s)

unknown
(us, 1890s)

unknown
(us, 1890s)

unknown
(france, 1950s)

unknown
(france, 1930s)

unknown
(france, 1930s)

unknown
(france, 1930s)

unknown
(france, 1950s)
6-lobe symmetry:

bradbury
(uk, 1910s)

colnago
(italy, 1970s)

hercules
(uk, 1940s)

mead
(us, 1910s)

monark
(us, 1950s)

orient
(us, 1890s)

ranger
(us, 1910s)

schwinn "gothic"
(us, ?)

sieber
(switzerland, 1950s)

vaterland
(germany, 1950s)

unknown
(france, 1910s)

unknown
(?)

unknown
(us, 1930s)

unknown
(france, 1910s)

unknown
(france, ?)

elgin
(us, 1920s)

unknown
(us, 1890s)

unknown
(?)
multiple (greater than 6) lobe symmetry:

shelby
(us, 1950s)

unknown
(us, 1930s)